Description
We've begun to create videos for exploring the Integrity Deck to support your most expanded exploration of wholeness and alignment in all aspects of our lives. This introduction to The Integrity Deck video shows you some ways to use the deck.
Click here to view.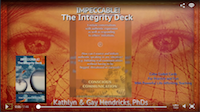 Gay and Kathlyn Hendricks, PhDs, have been pioneers in the fields of body intelligence and relationship transformation for over forty years. Based on their books and seminars, the cards in IMPECCABLE! The Integrity Deck offer powerful, life-affirming integrity skills.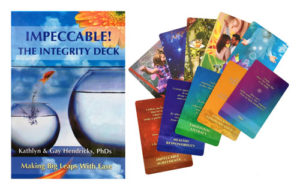 Kirsten Jones, LATG, is the artist and designer of the deck in collaboration with Kathlyn Hendricks. Kirsten is also a Hendricks' Institute certified coach and graduate of their Leadership and Transformational training program. As both coach and artist, her passion is to catalyze creativity, facilitating your own discovery process, your unique creative expression and aliveness.
CA sales tax of 7.25% and domestic shipping costs will be added automatically when you purchase.
Shipping costs for orders with a non-US destination will be higher than shipping costs for domestic orders, and will be added manually based on location. Please contact us at [email protected] before placing an order that will be shipped outside of the continental United States.