Training Organizers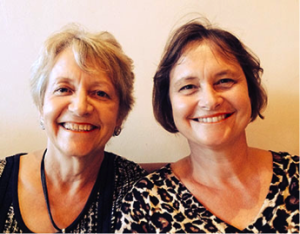 Janet Parks and Gabrielle Hildebrand
Janet@wildandbrilliant.com
Gabrielle@wildandbrilliant.com
www.wildandbrilliant.com
Janet: 510-558-0405
Gabrielle: 415-216-7612
www.janetparks.com
The San Francisco Bay Area
What is more powerful than expanding your capacity to give and receive love while having a terrific time? How cool would it be to end power struggles and criticism and replace them with appreciation and creativity?
That is what is in store for you if you come to Berkeley, CA, for Kathlyn's Couples Course.
We are delighted to be hosting this amazing course and see it as another step in growing conscious, thriving community around us. It is a tremendous gift having Kathlyn bring her mastery and wisdom to the Bay Area.
Gabrielle is the former co-facilitator of the Hendricks Institute Leadership Program and Radiance Prenatal Process Program. Her bodywork and somatic awareness coaching serves people who want to live in full alignment. Janet is co-chair of the San Francisco Bay Area Organizational Relationship Systems Coaching Community. Her coaching practice helps people resolve relationship struggles.
Together, as Wild and Brilliant, we offer monthly body-centered transformational programs based on our years of training with Kathlyn and Gay Hendricks. Our program, Connected and Inspired: Tools for Authentic Communication, fulfills the pre-requisite for the Couples Course. Visit www.wildandbrilliant.com for further information.