Description
HOW TO GET THERE FEELING BETTER THAN
WHEN YOU LEFT
Certified Pilates teacher, Susan Bronstein and
Kathlyn Hendricks, Ph.D.
DVD: 55 minutes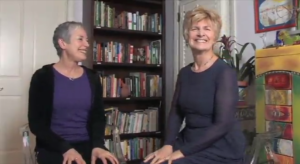 The Travel Solution is an innovative series of body-awareness and gentle stretches, all of which can be done in your airplane seat or car seat! Now there's a way to keep feeling great as you travel. With The Travel Solution, you can arrive at your destination feeling better than when you left.
Dr. Kathlyn Hendricks, co-creator of The Travel Solution, says: "Like me, you've probably felt the gritchy, weary, rattled feeling that often accompanies modern travel. The loud sounds, the smell of jet fuel, the coughs and sneezes of passengers―all those toxic factors used to bother me. Now I've got a new alternative, and I think it's going to make a big difference in your life.
As you do the activities you begin to feel a new sense of vibrant aliveness in your body, along with a refreshed clarity in your mind. Gone is that dull, achy feeling of constriction you get from being jammed into airplane seats and jostled by the world around you. The mental fog and grit of jet lag disappear, replaced by a flowing feeling of relaxed alertness. The Travel Solution exercises are simple, easy and feel good to do. You'll need to try them out for yourself to believe how good they feel. After you do, though, you may wonder how you ever traveled without them before!.
The Travel Solution is a new way to get to where you're going…feeling better than when you left!
The Video
The video comes in two parts:
The Instructional Session (40 minutes)
The Travel Solution Processes (15 minutes)
During the Instructional Session you follow a clear set of instructions as master Pilates teacher Susan Bronstein demonstrates the processes on Kathlyn, accompanied by Kathlyn's commentary. Part Two consists of a full run-through of the processes that takes about 15 minutes.
If you're a frequent traveler, you owe it to yourself to learn these simple movements. Once you feel the easeful feeling of relaxed alertness they give you―and once you feel how easy they are―you won't want to leave home without them.
Learn the exercises at home or take them with you on your iPhone or computer! Now you have a new power you can use to chase the travel blahs and blues away. Get The Travel Solution today, and transform your travel experience.
About The Creators:
Kathlyn Hendricks, Ph.D. has served for more than thirty-five years as one of the premier teachers of bodymind transformation and relationship enhancement in the world. Dr. Hendricks, along with her husband, Gay Hendricks, has co-authored numerous books, including such bestsellers as Conscious Loving and The Conscious Heart. A pioneering dance-movement therapist, she has been on the forefront of new approaches to transformation through four decades. She is the CEO of The Hendricks Institute and directs a worldwide training program. More on her work can be sourced at https://hendricks.com/about/
Susan Bronstein became certified as an aerobics instructor through Cal State Hayward in 1987. Her passion for movement and kinesiology left her hungering for more than just aerobics. So in 1997, after completing a 700 hour program, Susan became certified in the Pilates method of Body Conditioning under the tutelage of Romana Krysanowska, a student of Joseph Pilates who was chosen to carry on his work. After certification, Susan owned and ran her own Pilates studio in St. Louis, Missouri for six years until moving to Ojai, California, in 2003. In Ojai she taught stretch, dance and Pilates in every gym or club in town and finally opened Pilates StudiOh! in 2006. She has studied tap, jazz, ballet, African dance, yoga, contortion and more and is currently studying and in love with aerial arts including trapeze and rings.